As University/College students ourselves, we are always writing. Everything from lecture notes to assignment information. Because of this, we go through quite a lot of paper, so it is nice to have some cheaper fountain pen friendly notebooks at our disposal.
After the feedback from of our 'Top 10 Best Fountain Pen Friendly Notebooks' review, we thought we would make a more budget oriented list for those who don't want to spend $20+ on a notebook!
So what makes a good budget fountain pen friendly notebook? We think it comes down to a number of factors! Obviously price and paper quality are the two main ones. Some more key areas that we took into account are durability, look and overall experience.
As this list is tailored towards students, we have opted to compare only A4 sized notebooks, as this is the most common choice of notebook size on campus!
The review will cover a number of key categories: we will tell you our Top 5, in no particular order, and then compare them all according to aesthetic, fountain pen writing experience and paper quality & specs. After this, we will reveal our picks!.
So what is the best Budget Fountain Pen Friendly Notebook?
Aesthetic and Design
The Black n Red Notebook:

A classic look amongst old-school notebook lovers. The red binding and hard black cover make for an impressive yet understated look. Its pages are quite standardly designed with just the lining, no fanciness there and no complaints either. It's a very normal looking notebook that has become ubiquitous in schools and workplaces alike.
The Rhodia Classic Side Staplebound notebook: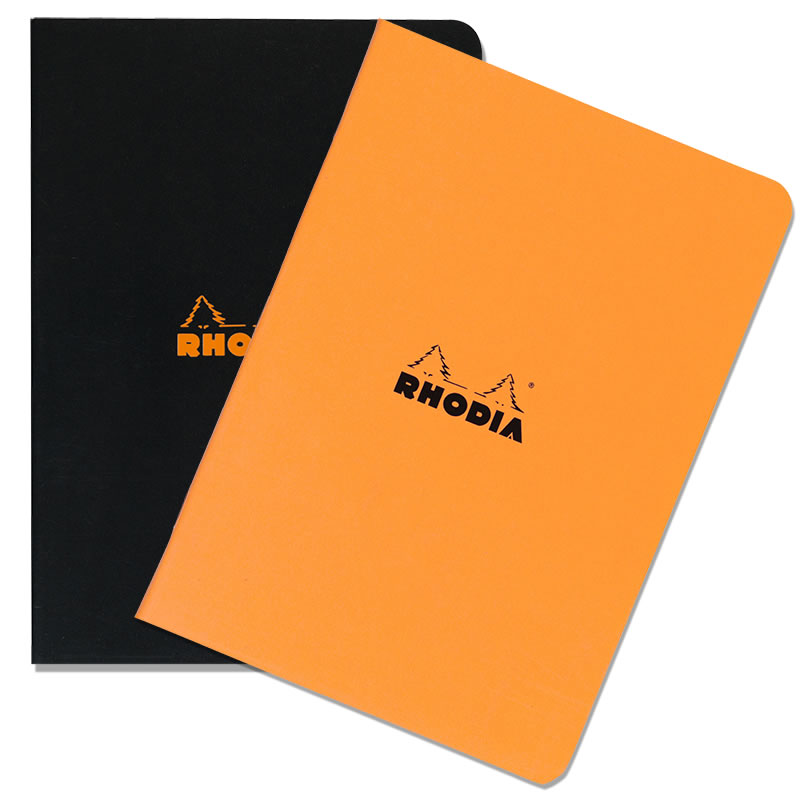 Perhaps our favourite design on the list! The cover has a simple 'RHODIA' logo on the front, itself a nice looking logo that does carry a certain level of prestige. The logo is surrounded by a single coloured covered (either Black or Orange). The paper is a simple lined design.
The Clairefontaine Classic line:
The Classic line from Clairefontaine certainly stands out. Available in a number of different colours and binding designs, you should find one that you like! The paper can be found in; lined, graph and French-ruled versions!
The Apica CD-40:
The vintage style of that Apica is known for is sure to appeal to some! The cheaper CD-40 version is available as wire-bound only, with the more premium notebooks in the line being cloth bound. Available with both grid and lined paper designs.
Kokuyo Campus Notebook:
Perhaps the least flashy design on this list, the cover simply says what it is, the Campus notebook. These look just like the notebooks you used as a kid at school, but the Japanese made paper takes them to the next level. These are available as a perfect bound or spiral bound notebook, with dotted lined paper.
Fountain Pen Writing Experience
The Black n Red Notebook:
In a great combination of the thick pages and solid paper quality, bleed and show through are almost negligible (depending on your ink). However, as a left-hander, the downside of such thick paper is the dry time. Taking quite some time to dry can be especially annoying if you are writing on the go and can't wait a few minutes before closing the notebook. Overall a very good writing experience for fountain pens.
The Rhodia Classic Side Staplebound notebook:
Again, as any fountain pen notebook should, it handles most inks with minimal bleed and shows through. But again, as though it is a seeming trade-off, the dry time is quite substantial.
The Clairefontaine Classic line:
Perhaps one of the most famous papers for fountain pen users, you already know what to expect. The writing experience is almost very smooth, there is next to no bleed or show through and the dry time is slightly better than the previous two notebooks. Nibs glide across the page and provide just enough feedback as to not fool you into thinking you're not actually writing.
The Apica CD-40:
Again, a sturdy writer for fountain pen users. Apica paper is extremely smooth, but like some others, it has been known to suffer from long dry times and some inks can show through.
Kokuyo Campus Notebook:
Think Tomoe River but in a much cheaper package! The paper is thin, but also very smooth and it does a great job of showing off your ink. As it is such a thing paper, there is some degree of show-through, so if that annoys you this might not be for you!
Specs and the bottom line
The Black n Red Notebook:
A tried and tested classic that is of unparalleled value. It is a solid all-rounder, with respectable paper quality and a durable hardcover.
The Rhodia Classic Side Staplebound notebook:
Like your classic staple-bound school books, but Rhodia. These represent good value and lay flat which is a great plus. The card cover is not as durable as harder covers, but the staple binding is durable enough!
The Clairefontaine Classic line:
Very similar to the Rhodia notebook, the Clairefontaine contains our personal favourite paper. With plenty of paper and binding opinions, you are sure to find one that suits.
The Apica CD-40:
The Apica CD-40 allows for the spoils of Apica paper at a cheaper price. The paper is not quite as smooth as others on this list, but we love the look! Some may not like the spiral binding but upgrading to the cloth binding bumps up the price considerably.
Kokuyo Campus Notebook:
This notebook is basically made for the student, right down to the name! The paper quality is excellent and it represents extremely impressive value. I actually use this notebook for two of my subjects and have not had any complaints!
Conclusion
Overall, all of these options are impressive (which is why they are in this list), but everyone always loves a ranking!
Kokuyo Campus
Clairefontaine Classic
Rhodia Classic Side Staplebound notebook
Black n Red Notebook
Apica CD-40
The Japanese know how to make a good notebook and the Kokuyo Campus really confirms that! The thin paper may be a bit less durable than other notebooks, but the feel of the paper and the excellent value make this (a very close) number one in our eyes!
Do you agree with us? Who did we forget?
A Notable Exception:
You'll notice that there is one notebook that seems to be missing from our list, the Moleskine Cahier. Putting this notebook among the others would be a mistake. Don't get us wrong, we love the Moleskine simple aesthetic, mission and robust design but it just does not compete with the other five notebooks on the list. Its paper is grainy under the pressure of a normal-wet nib and the "show through" between pages is quite honestly not good enough.  However, if you are looking for a sketch journal or mathematics notebook, then Moleskine is for you. It's very good when it comes to a normal rollerball and pencil. If a fountain pen "lover" advises you to get this as a notebook in which to explore a passion in fountain penmanship, they are lying to you!
---
This post contains affiliate links to purchase the notebooks discussed!
Using these links will help support us to deliver more content such as this post.