Review: The Pilot Custom 823
Categories
Reviews
In a community that is as opinionated and polarising as the Fountain Pen world, it seems unlikely that there could be a pen that is universally loved and recommended.
However, this appears to be the case with the Pilot Custom 823.
Many well-known commentators have heralded the 823 as "the last pen you will ever need to buy", or "close to perfect".
So what makes the Pilot Custom 823 worthy of such high praise?
---
Pilot Custom 823
The 823 sits as one of Pilot's flagships offerings, particularly in the American and European markets. With a commonly found retail of $288, the 823 acts as an attractive middle ground between the entry level gold nibbed pens and the more luxurious offerings from companies such as Pelikan and Visconti.
The 823 is available in just three finishes; Smoke grey/black, Amber and clear demonstrator. Whilst this is technically true, the clear model is practically impossible to find outside of Japan. This leaves most retailers to carry just the Amber and Black models. There was also limited quantities of blue finishes produced, however, these are nearly impossible to find! Let me know if you see one!!!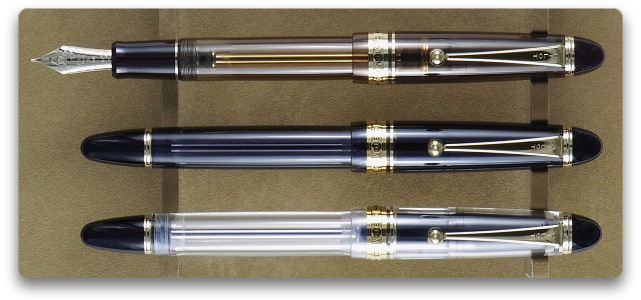 For this reason, the clear model commands a minor premium when they do come up for sale.
In terms of nib choice, there are a number of interesting options that make the 823 an enticing prospect. Apart from the regular EF-B, Pilot also offers FA and WA nibs. The FA or Falcon nib is Pilot's flex nib, which provides huge line variation for a modern pen. Likewise, the WA or Waverly nib has slightly upturned tines to provide a smooth and unique writing experience.
Sadly, much like the clear finish, the FA and WA nib options are seldom found outside of Japan. Come on Pilot!
I was lucky enough to get my hands on a clear bodied pen with a medium nib thanks to my friend Phillip (Pensandgaming). This combination is not readily available anymore, but Phillip was kind enough to swap out the FA nib that was originally in this pen for a fresh medium!
Design
By most standards, the Pilot Custom 823 can be classified as a large pen. The understated, cigar-shaped body measures 148mm when capped and 132mm when uncapped, making it of comparable stature to the Montblanc 149, albeit with a bit less girth. You can post the pen if you like but I can't see anyone feeling the need given the already large body.
One thing that I love about the design is the long grip section accompanied by the large #15 size nib. It gives the front of the pen a beefy look and feel, which larger pens can often miss out on. The smooth section will also be sure to please just about anyone regardless of how you hold the pen.
Some may accuse the design to be a bit boring, which may be true, but I think it is a classy and smart looking pen, especially with the right ink colour to make the barrel pop.
Speaking of ink, one thing that makes the pen stand out from the crowd is that filling system! This is my first vacuum filler pen and I absolutely love it. The back of the pen unscrews slightly, allowing you to pull up the plunger and then press it back in, then voila, an easy and entertaining fill of ink. I could play with it for hours… seeing just how much ink I can fit in.
The filling system and comfortable writing position make this pen a real class leader for any scribes. The huge ink capacity means that you can go for days without needing to refill, even for heavy users.
My only complaint with the design is the black plastic inside the cap that blocks any view of the nib when the pen is capped. I get that it is needed to prevent the nib from drying out, but it definitely stands out against an otherwise completely clear pen.
Writing experience
What can I say that you haven't heard preached by Brad Dowdy or Matt Armstrong? The pen is a pleasure to use and I cannot see myself letting the 823 go uninked… ever!
As with most gold nibbed Pilot pens, the Custom 823 has very little feedback and is a nice wet writer. I haven't had a single skip, hard start or any railroading, even when pushing the nib as far as I ever would.
I have found it to be a slightly broader line width than what I have come to expect from Japanese pens. The Custom 823 medium nib produces a comparable line to most European mediums. I expect this is as a result of the larger nib and the wet line it produces! This isn't a problem, but it is something to note for those who would normally order a size broader with Japanese pens.
Value
As with any Japanese pen, this is a tricky topic to address. In the US, the pen has a retail price of $288. In Australia, we find the pen for $390, whilst European customers will pay around €388.
So it is fair to say that the Pilot Custom 823 is a pricey pen, however, if you are willing to go through Rakuten or Japanese Ebay, the pen can be had for less than $200 (US). At that price, the pen is a steal. Despite this, buying directly from Japan can have it's downsides, particularly when it comes to any potential warranty issues.
Honestly, at just about any of these price points, I would still say the pen is worth the cost. The writing experience and feel of the Pilot Custom 823 is equal or superior to that of pens twice the price. Couple with this the impressive ink capacity, and daily usability and the pen seems like good value to me.
Wrap up
Overall, this review must be counted as yet another song of praise for the mighty Pilot Custom 823.
I would love to see wider availability of the clear finish, FA and WA nibs, as well as some changes to make international prices more competitive.
Ultimately, the pen has developed a cult-like following for a reason.
The ubiquitous influence of the Pilot Custom 823 has set the standard for just how good a sub $300 pen can be.
Good stuff
Excellent writing performance
Huge ink capacity
Large size and great balance
Smart design
Bad stuff
Limited finishes (and even more limited outside Japan)
Price discrepancies
Not very unique anymore!
Further reading/useful link
Let us know your experiences or thoughts on the pen down below!
This pen was purchased with my own funds and the views are my own. This post contains an affiliate link which helps keep the lights on around here!